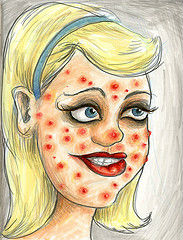 Acne is one of the most common problems of all skin diseases.
Antibiotics are often used in its treatment, but are not always effective.
Zinc supplementation, alone or in combination with antibiotics, might be effective to treat acne, according to a study published in the European Journal of Dermatology.
One of the causes of acne is the bacteria Propionibacterium acnes.
Antibiotics reduce acne via their anti-bacterial effects. However, bacteria have slowly become resistant to antibiotics over the past decades.